Spud Gun and Potato Cannon Plans
This potato launcher is the typical pneumatic type. It is often referred to as over-under type or bazooka/spudzooka (because of its shape and launch postion).
Most electronic pneumatic launchers are modifications of this design, incorporating different barrels, elbows, and pipes. The idea for this spud launcher undoubtedly came from the Not how to build an air cannon spudgun page. The following is my design for this amazing PVC air cannon.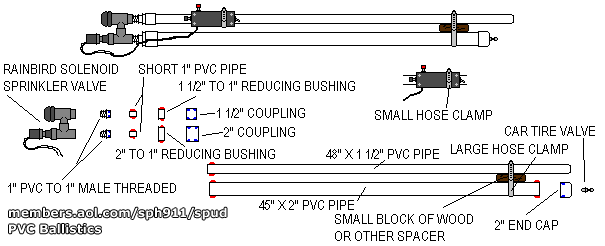 ESVC-01 Pneumatic Potato Gun
MATERIALS.

48" SCH 40 1 1/2" PVC Pipe
45" SCH 40 2" PVC Pipe
1' SCH 40 1" PVC Pipe
1 1/2" to 1" Reducing Bushing
2" to 1" Reducing Bushing
1 1/2" Coupling
2" Coupling
2" Endcap
1" PVC to Male Thread X2
Milton Chrome Tire Valve
RainBird Solenoid Sprinkler Valve
Large Hose Clamp and Block of Wood
Electronics Box (See Below)

ALL PIPE IS SCH 40!

DO NOT USE DWV PIPE!
ASSEMBLY

First cut all pieces of the pneumatic potato gun to length and clean the ends to be glued. Drill a hole in the end cap for the tire valve and screw it in place. Also, taper the firing barrel to shave the spuds. Glue all red areas, and the blue areas inside the couplings. Obviously, do not glue the threads. Glue the pipes to the couplings and let them sit overnight. When ready, screw the pipes to the valve. Teflon tape can be used to insure an airtight seal, however be careful not to tighten too much, or the pipes will be very hard to get off (I had my pipes break due to a fall, and the remaining threaded pieces were extremely hard to grasp. Usually once around the male threads with the tape is good).

The compression chamber is 2" x 45". The control box features a triple safety: a labeled on-off toggle switch, and two buttons which must be pressed simultaneously to get the cannon to fire. The barrel I use most is a 1 1/2" x 48" barrel. I tapered the end to help cut the spud into shape. I also have a two inch barrel.

The tire valve to fill the chamber is a MiltonValve. To the right is a photo of the package and valve. I picked this up at an auto store for 5 bucks. The valve is chrome and one that you bolt in place. The washers and nuts are included, you just drill a tap hole on the endcap of the chamber for the valve.

To make the control box, use Radio Shack parts. Assemble it as shown in the cannon plans, or modify switch location to suit your preferences. This is just a guide, and two switches are not necessary, one is sufficient. All joints should be soldered for maximum efficiency. The valve operates at 24 volts DC so the three 9 volts are ample power, being the valve is opened for only a few seconds at a time.


Chrome Tire Valve.



Set the control box against the firing barrel and use a small hose clamp to secure it. Then insert a block of wood or something similar near the business end of the launcher and use a large hose clamp to secure them.

Altogether, this cannon cost approximately $47. $12 for valve, $15 for pipe (sold in 10' sections) and fittings, and about $12 for batteries and electronic parts. It has been a while since I built this, so I cannot give you a more accurate price guide yet.

The Firing Control Module.
Sniper Air Cannon
MATERIALS.

Pipe can be bought in 5' sections.
3/4" Pipe
1" Pipe
2" Pipe
3/4" 90 deg. Elbow x3
3/4" 45 deg. Elbow x6
3/4" Tee x2
3/4" to 1" Male thread
1" to 3/4" Bushing
1" to Female thread
1" to Male thread
2" x 1" Bushing
2" Coupling
2" Endcap
Tire Valve
1" RainBird In-line solenoid sprinkler valve

ALL PIPE IS SCH 40!

DO NOT USE DWV PIPE!
ASSEMBLY
The stock assembly is the main part of the gun. I cannot give you accurate measurements, as I built it to fit my large physical profile. I will post better measurements when I find my schematics again. Stoppers (pictured below) are not necessary. Don't worry about them. Simply glue the stock pieces as shown. Feel free to change the position/length of the stock and handle to suit you.
I made the chamber 2' 6". I felt this allowed for ample volume while maintaining a low profile. Great volume is not so necessary in this gun, as you are shooting smaller, lighter projectiles (not large potatoes, although with another barrel you could).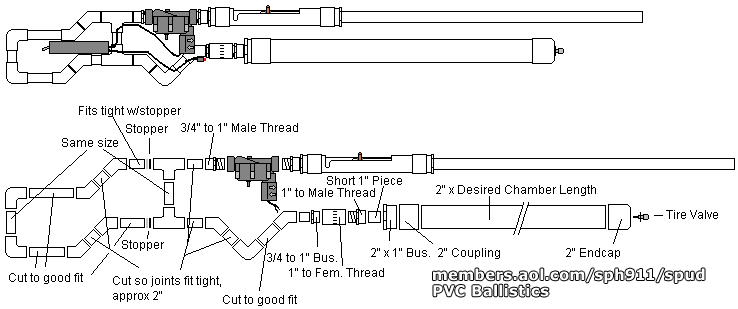 For construction of the breech loading mechanism, please see the breech loader mod page. Construction of the firing mechanism is seen below, or for more detailed parts, see the ESVC-01 page. Wire the electronics like so. More plans to come later. Place the momentary switch in its obvious location, you will need extra wire to do so. I just duct taped mine in place (oh yes).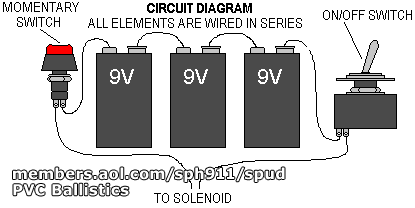 Basic Pneumatic Potato Cannon
MATERIALS

1" Pipe (short sections for use as nipples)
1 1/2" Pipe
1 1/2" Coupling
1 1/2"x1" Reducing Bushing
2" Pipe
2" Street Elbows (Male and Female connections)
2" Endcap
2"x1" Reducing Bushing
1" to Male Thread x2
Tire Valve
1" Ball Valve
Large block of wood and tie strap for spacer

ALL PIPE IS SCH 40!

DO NOT USE DWV PIPE!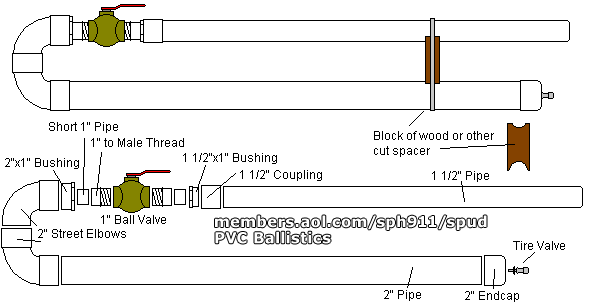 ASSEMBLY
This cannon is very simple to build. The 2" Chamber should be cut around 4 feet, but can be as short as 3 feet and still perform well. It is a matter of preference. The barrel should also be around 4 feet. Drill a hole for the tire valve and attach it to the endcap, before it is glued in place. When all pieces are arranged, prime and glue. Let them sit overnight or you risk destroying the seal of the glue.
Adaptations of this cannon abound on the Internet. One cannon is 10 feet long and shoots 3" wide bean cans of concrete!
Combustion Spud Gun
MATERIALS.

2" x 4' pipe
4" x 16" pipe
4" to 2" bell reducer
4" cleanout and cap
Coleman lantern lighter

ALL PIPE IS SCH 40!

DO NOT USE DWV PIPE!

This potato cannon has a four foot barrel of two inch pipe. The combustion chamber is 16 inches long and is four inch diameter pipe. The Coleman lantern lighter can be found at Gander Mountain. All PVC pieces are schedule (SCH) 40 pipe. First cut all pieces to length and clean the ends to be glued. Drill a hole for the lantern lighter and install it in the 4 inch pipe, toward the rear end. Make sure it fits right, you may have to countersink it. Taper the front end of the barrel to a point to help shave the spuds. Glue all the red areas with PVC glue only. Obviously, don't glue the cleanout cap. Let the assembly sit overnight. WARNING: Don't spark the igniter while the glue is fresh or the fumes could ignite.